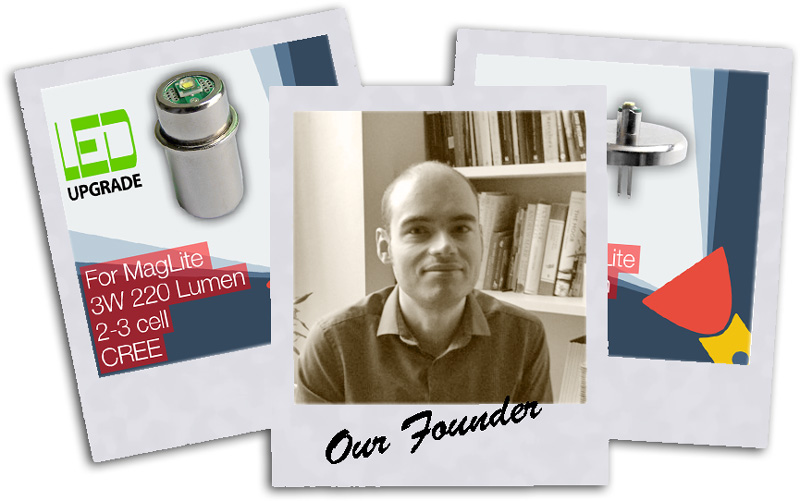 Here at TorchUpgrades we offer compatible MagLite, Mini MagLite, Petzl, Power Tool and Universal LED upgrade bulbs and conversions for torches, flashlights and headlamps. These are the very best LED upgrade bulbs for your torch, we are a new brand with new ideas, founded by our founder Ross we are excited to be able to share with you the many improvements our LED bulbs will make to your torch so please take a look around the website at our products to find out more about this.

Message from Ross (our founder)… TorchUpgrades is my passion, drawn out of the fact of how to get a decent light output from my old MagLite TorchUpgrades was born and we succeeded and we can now offer a compatible LED bulb for torches throughout the MagLite range from a standard 2 cell to a AA Mini MagLite, to other brands like Petzl and not to mention our popular Power Tool bulb and universally compatible Universal bulb I am confident we will have the solution for you when it comes to making the move to upgrading your torch to LED. If you have any questions or queries about our LED bulbs you are welcome to email me personally here or use the contact form and when we are online please feel welcome to start a conversation with us by using the live chat facility which can be found in the bottom right hand corner of your website browser's window. At the time of writing we have nine models which we hope will cover all your LED upgrade bulb needs, however here at TorchUpgrades we will always be open to your ideas and feedback and if you have a torch which we don't currently supply a compatible bulb for then please let us know by contacting us and we will see what we can do to help you find a suitable solution.

So that's TorchUpgrades in a nutshell really, we are sure you will enjoy using our products, find them useful and a genuine improvement for your torch and if not we have a simple 14 day returns policy (but we doubt you will ever have to use this, but it is there of course if you need it!). So please give us a try, we will do our very very best not to disappoint you and will dispatch your order in a timely fashion the very same day if your order is placed before 1pm. Also do please remember to get in contact with us if you have any questions or queries as we very much look forward to working with you.

2019 UPDATE! Please see some new products here: Solitaire, High Power MagLite, Mag Charger, Extension Tubes, Glass Lenses and Mini MagLite Push Button Switch.
Best wishes,
Team TorchUpgrades